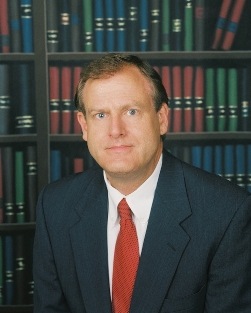 EDUCATION
University of Missouri- Kansas City
Juris Doctor Degree
William Jewell College
Bachelor of Arts Degree
Insurance Institute of America
Associate in Risk Management
American Institute for CPCU
Chartered Property Casualty Underwriter

PROFESSIONAL MEMBERSHIPS AND ADMISSIONS
Member, Missouri and Kansas Bars, American Bar Association, Eastern Jackson County Bar Association, Kansas Bar Association. Admitted to practice before the Missouri and Kansas Supreme Courts, the U.S. District Courts for the Western District of Missouri and the District of Kansas, the 3rd, 8th, 9th and 11th U.S. Circuit Courts of Appeal and the U.S. Supreme Court

REPRESENTATIVE CASES

Angel v. Angel,
356 S.W.3d 357 (Mo. App. 2011)

Charity Stricker v. Children's Mercy Hospital,
304 S.W.3d 189 (Mo. App. 2010)

American Insurance Association v. Garamendi,
539 U.S. 396, 123 S.Ct. 2374, 156L.Ed.2d 376 (2003)

Rylander v. Dow Chemical Co.,
534 U.S. 996, 122S.Ct. 466, 151 L.Ed.2d 383 (2001)

Neidig v. National Warranty Insurance Co., RRG,
531 U.S. 1104, 121 S.Ct. 844, 148L.Ed.2d 723 (2001)

Gilchrist v. State Farm Mutual Auto.Insurance Co.,
390 F.3d1327 (11th Cir. 2004)

National Warranty Insurance Co., RRG v. Greenfield,
214F.3d 1073 (9th Cir. 2000)

United States v. Pace,
201 F.3d 1116 (9thCir. 2000)

United States v. Stewart,
185 F.3d 112 (3rd Cir. 1999)

Blue Cross and Blue Shield of Kansas, Inc. v. Praeger,
276 Kan. 232, 75 P.3d 226 (Kan. 2003)

Covington v. Ohio General Insurance Co.,
99 Ohio St.3d 117, 789N.E.2d 213 (Ohio 2003)

Poppe v. Poppe,
866 S.W.2d 186 (Mo.App. W.D. 1993)

Frasher v. Life Investors Insurance Co. of America,
14 Kan.App.2d 583, 796 P.2d 1069 (Kan.App. 1990)

Desmond v. American Insurance Co.,
786 S.W.2d 144 (Mo.App. W.D., 1989)

In re Godden,
156 B.R. 36 (Bankr.W.D. Mo.1993)

PUBLICATIONS

Author, Validity of Exculpatory Clauses in Missouri Lease Agreements, 40 Journal of the Missouri Bar 240 (June, 1984)

Author, The Constitutionality of Continuing Residency Requirements for Local Government Employees: A Second Look, 23 California Western Law Review 24 (Fall, 1986)

Author, State Regulators Need Federal RICO, 21 Legal Times S30 (January 11, 1999)

Author, Legal Review, Humana v. Forsyth, 17 Journal of Insurance Regulation 429 (Spring, 1999)

Author, Legal Review, Unum v. Ward, 17 Journal of Insurance Regulation 577(Summer, 1999)

Author, Legal Review, LaFarge Corp. v. Pennsylvania Insurance Dept., 18 Journal of Insurance Regulation 138 (Fall, 1999)

Author,Legal Review, Shapo v. Engle, 18 Journal of Insurance Regulation 260 (Winter, 1999)

EXPERIENCE

Managing Shareholder, Blevins, Pietz and Myers, P.C., Independence, Missouri; Senior Counsel, Insurance Regulatory Affairs, National Association of Insurance Commissioners; Trial and Claims Attorney, American Family Insurance Group; Assistant Prosecutor, Kansas City, Missouri; Special Assistant County Counselor, Jackson County, Missouri; Claims Counsel, Federated Rural Electric Insurance Corporation. Engaged in trial and appellate practice encompassing civil and criminal law, business litigation, insurance defense, administrative law, workers' compensation, subrogation and tort law. Argued insurance, workers compensation, business, ERISA and divorce cases before U.S. Circuit Courts of Appeal, Missouri and Kansas Courts of Appeal and workers' compensation cases before the Missouri Labor and Industrial Relations Commission. Conducted jury and bench trials in Missouri and Kansas Circuit, District, Associate and Chapter 61 Courts, U.S. Bankruptcy Court and the Division of Workers' Compensation. Prosecuted and defended business, personal injury, workers' compensation, property damage, uninsured and underinsured motorist litigation. Litigated declaratory judgment, interpleader and other actions involving homeowner, business, garage, automobile and farm policies.






Served in the United States Navy as Operations Officer, Communications Officer, Officer of the Deck (General Quarters and Sea & Anchor Detail), Combat Information Center Officer, Crypto Officer, Nuclear Control Officer and Command Duty Officer, USS Wichita (AOR‑1), Operations Officer, Deck Officer, Weapons Officer, Mine Countermeasures Officer, Officer of the Deck, Command Duty Officer, USS Esteem (MSO‑438). Deployed in the Pacific Ocean, South China Sea and Indian Ocean. Special duty at several commands, including USS Eisenhower (CVN-69) in the Persian Gulf. Awarded Navy‑Marine Corps Expeditionary Medal (Iranian Hostage Crisis), Humanitarian Service Medal (Vietnamese Boat People), Sea Service Medal (Pacific Ocean, Indian Ocean, Persian Gulf, Gulf of Oman & South China Sea), Expert Marksman Medal. Granted top secret-crypto-cosmic clearances. Honorably discharged as Lieutenant, Senior Grade.

The Myers Law Firm serves clients in Missouri and Kansas, including Lee's Summit, Raytown, Independence, Blue Springs, Grandview, Greenwood, Liberty, Kansas City, Sugar Creek, Unity Village, Lake Lotawana, Lake Tapawingo, Grain Valley, Oak Grove, Warrensburg, Harrisonville, Overland Park, Leawood, Shawnee, Lenexa, and the following counties: Jackson County, Clay County, Johnson County, Platte County, Cass County, Wyandotte County and Lafayette County.